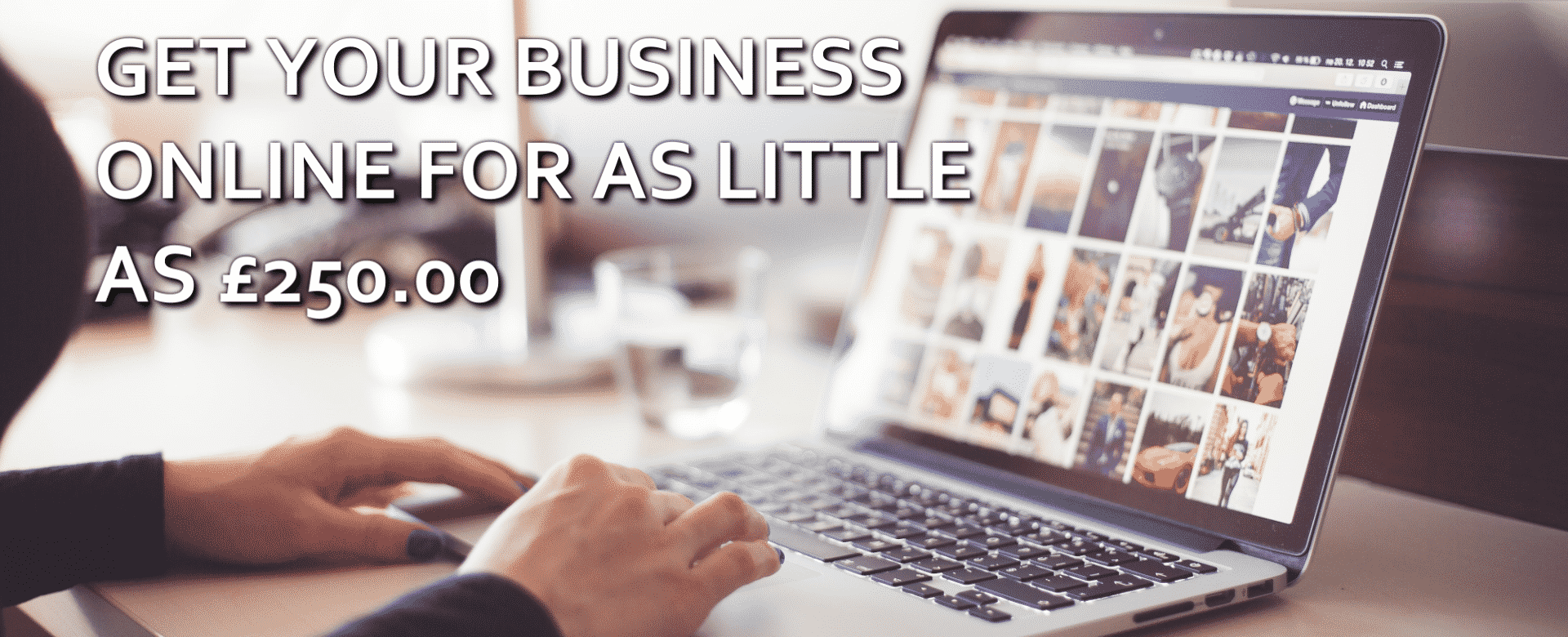 Get Your Business Online For £250.00
No matter whether you are starting a new business or have been running a business for a while now. You may have arrived at the point where you will want an online presence. As the world progresses into the digital age, more and more businesses are building their own websites to showcase their services so that they can be found on search engines and so they have places to direct their customers for information.
It is our aim at Fantasoft to make sure that you can get a proper start online. This basic package will give you up to two things: Firstly a website with up to 4 pages, which will be built to purpose for your business, and secondly, if you don't have it, we can set you up a Facebook page or optimise a Facebook page you do have to potentially better suit your needs. 
What you will get:
Website Homepage: This page will show your business and your work, it can feature images, galleries and as much information as you would like to tell people. We always recommend on adding as much information to the home page as possible so you can stand out better in search results. This will feature a contact form at the bottom.
Services Page: This page details the services your business provides. 
Gallery: This page will feature a gallery of your work.
Contact Page: This page will have contact information for your company including a contact form.
Any of the Services/Gallery/Contact pages can be replaced with any type of page you wish. Online shopping and ordering services we would have to charge extra for based upon complexity.
Domain Name: This can be anything you like, as long as it's available. Certain Domain names such as .ai and .xyz can be expensive and these will need an additional cost. We are very transparent about the costings of domains and we believe in trying to get the best price available.
Hosting: Your website will be hosted at the best prices available. If you at any point need better hosting, which is incredibly unlikely given the quality of the servers we use, this may incur extra costs.
SSL Certificate: This encrypts data passing through the website. It's necessary for GDPR compliance.
SEO: We specialise in providing a good quality of SEO practice. Your site will be optimised for SEO as part of our deal with you. Many companies charge an arm and a leg (along with taking out a second mortgage) for SEO services. With us, we see it as our duty to provide excellent value with our services. Your pages will be optimised for loading speed, your meta tags and data will be added, your pictures will have alt text and so on.
Cookie Policy and Privacy Notice: Taken care of as part of our deal with you.
Facebook Messenger Connection: We can set up your site to take messages through Facebook Messenger like we use on our own site. This is part of our package.
We can add extra pages for £25.00 per page plus £10.00 per hour spent working on them. (We work quickly and if you provide the images and information you want, it could take as little as 10 minutes, costing a whopping additional £1.60. 
If you require extra work on the site once we have agreed the site is complete, we charge £15.00 per hour to make adjustments. All adjustments are based on real-time, which means that if they take only a few minutes, you will not be charged excessively. We don't believe in adding 100 hours to the clock and rounding up for a word alteration job.
If your business provides an exceptional level of service which we can clearly see, we will happily provide you with a back link from our site.
What we need from you:
Information: We will need as much information about your company as possible. We can then write this information up and edit it if necessary on the site.
Images: Whilst it's easy to use royalty free images, we would rather represent your business in the best light possible. Photographs of a real business functioning will get a better response from customers. This does not mean we can't or won't use royalty free images if you wish. 
We appreciate full payment up front, however this is not necessary, though we will need to take half the payment in advance as a precaution. 
Whilst we can write information from scratch, this requires extensive research into a business and it's practices, so we would have to charge an hourly rate of: £15.00 per hour if we are not presented with enough information about a company. 
Tips: These are always appreciated for a job well done, but are completely unnecessary!
Site Upkeep Fee: The website is free for the first year you are with us, every year afterwards, it will cost £75.00 per year to keep the site up and running. This is about as cheap as we can afford to get it. Depending on certain factors, this may be more expensive for people who have expensive domain names or receive abnormally heavy traffic through their site. If the prices of the site upkeep go above £75.00 we will inform our customers as soon as possible, and look for a way to keep the price at a comfortable level. 
Good Communication: If we work well together, we're happy to put in a bit of time and effort on our behalf to make sure that you are always getting the best quality.
If you like our work, please tell other people about it. It's our aim to help every business we can!
Special Deals for Locally Approved Businesses
If you are a Locally Approved Customer, then you are an accredited business that provides an exceptional quality service. You have passed their quality checks and always endeavor to look after your customers. We believe in providing a quality service for everyone, and we respect other businesses that have made the grade to become a part of the Locally Approved family. You will receive a backlink from our website automatically as their vetting process prioritises the levels of customer happiness that we believe matter most in our field. Your site will also link back to Locally Approved, giving us all a stronger web presence.
As a Locally Approved Customer, we are happy to offer you this deal for £200.00 with a couple of alterations to our prices. Extra pages can be added for £20.00 per page, plus £8.50 per hour spent working on them. (Price based on real-time spent.) Extra work on the site will be £10.00 (also based on real-time) per hour for adjustments after we have agreed on the site. For writing information from scratch, we will charge only £12.00 per hour. To find out more about Locally Approved, click the image below!
Working Together
If you would like us to handle your Facebook Posting, we are happy to provide people who take this deal our service for 10% off. We try and keep our Facebook service at a competitive price and are one of the few companies that actually puts some of the money into paying for Facebook ads.
We usually charge £35.00 per hour to write blogs. This requires a large amount of research in order to deliver a quality product and we don't charge for that time. If you have taken this deal with us, we are happy to write blogs for you, competitively keyworded for £25.00 an hour. We are also happy to add blogs you and your staff write to your site for £2.50 per added blog. This will include a section with blogs in it. We recommend adding a blog per month in order to help you rank SEO wise. (Each blog is technically another page added to your site, and this will have all the back end SEO done on it because you are our customer.
If at any point you would like to move your business away from us, that will incur additional costs based upon the time taken to transfer everything over for which we charge £8.50 per hour of transfer rounded down to the nearest hour. This process can take some time and we can give an estimate depending on which providers you will be moving to.